Driven by lifestyle, U32 is Fargo's first all-inclusive, lifestyle-driven apartment community. Given the seemingly impossible task of filling all units before the apartment's opening, we partnered with U32's communications team to develop a relatable brand, build an immersive website, and coordinate all online marketing efforts.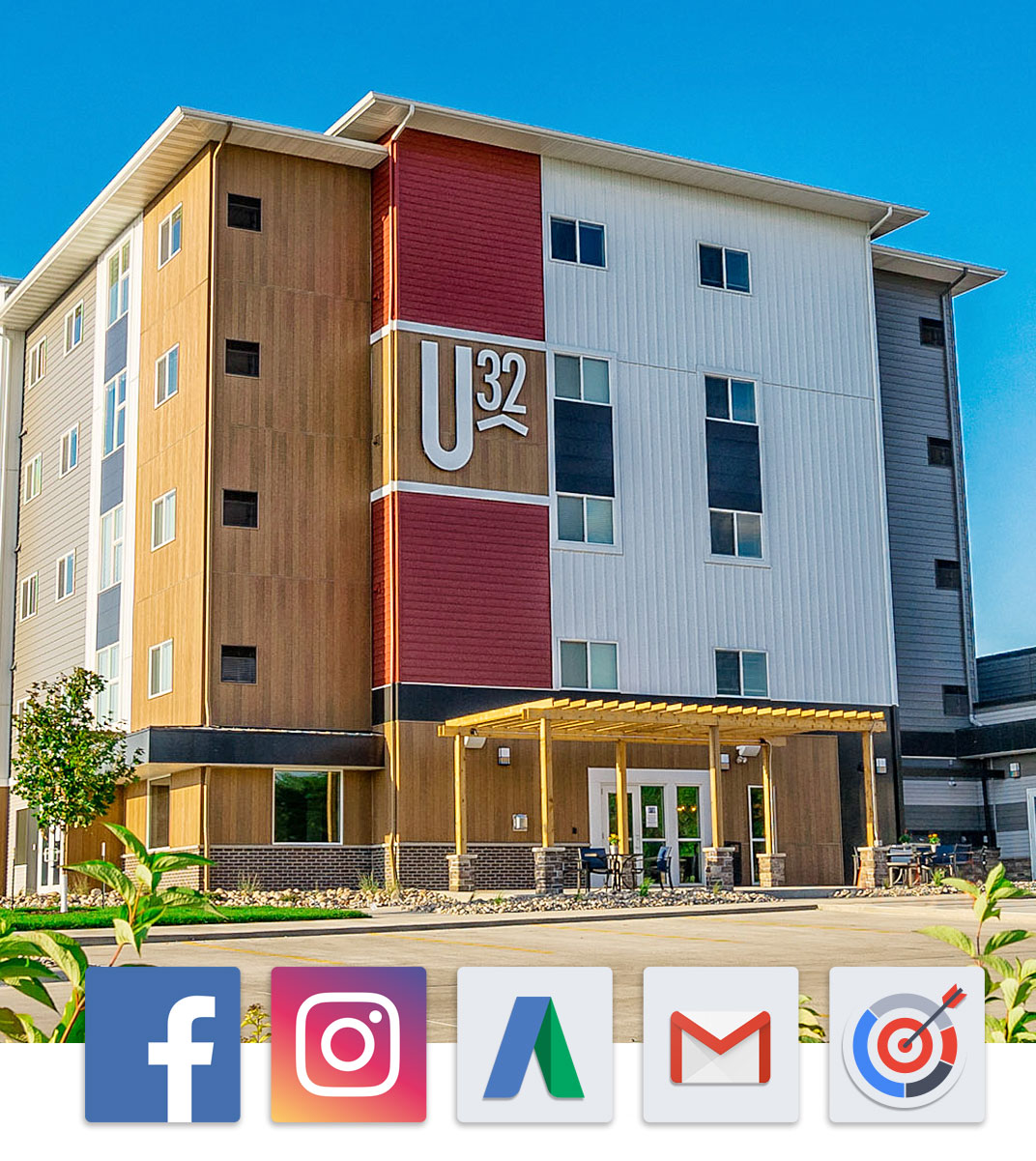 Brand Building
The ultimate goal of an brand building effort is to possess an identity your audience believes in and relates to. After recognizing U32's target audience - progressive, continually evolving, experience-craving young adults, we focused on creating a synergy among U32's voice, the audience's experience at every touchpoint, and the brand's ability to evolve. By creating a brand that is versatile in it's ability to assimilate with it's current audience, both in voice and online behavior, residents feel a sense of relatability and security in who they are.
Online/Digital Marketing
Understanding that U32's audience exists on multiple online channels, it was essential to establish and implement a platform-specific marketing strategy that considered every touchpoint. The ultimate goal was to firmly establish U32's brand in the mind of its audience and acquire quality leads. Through the strategic use of social media channels - primarily Facebook and Instagram sponsored advertising, Google Adwords, email marketing, and website visitor retargeting, we were able to take advantage of the unique strengths of each individual channel - all while keeping U32's voice consistent.
Website Experience
Because U32 was yet to be built, it was crucial to give potential residents an immersive experience of the apartment's features. With an interactive, mobile-first experience, users are given the opportunity to seamlessly view a virtual tour of the facility, browse 3D renderings of each available unit, view availability, and conveniently contact U32 property managers. Due to the uniqueness of U32's site compared to all other apartment sites in the area, we saw a substantial amount of residents applying for a lease directly from the site.